Bag Ladies could surely say Swirl is just another Gilt Group, yet another online retail shopping outlet to make you feel guilty but Swirl has a personality all it's own and for those of us that wouldn't otherwise have access to both high end, couture designers and fresh on the scene buzzmakers (as Swirl refers), it just means greater accessibility and how can you not love that? Bag Ladies sure does. You know Daily Candy, they deliver the latest and greatest in fashion, food, fun and style via email, video and the web. Well they saw the opportunity to not only bring us fashion news but the actual merchandise that makes the news and thus Swirl was born. The first sample sale launched just last month and still in Beta which means Swirl is still in development basically ...translation, a lot of tweaking of the site and additions of new features will likely be taking place over the next few months but I'd say Swirl is definitely off to a good start with sample sales by brands and Designers such as Burberry, Tod's and Cosabella. As an existing DailyCandy subscriber, I'm promised special promotions and exclusive merchandise (I'll get back to you regarding whether Swirl holds true to their promise). And for those of you who may not know what a sample sale is, it is basically when a Designer or store or design house sells promotional merchandise so the pieces may have been used in a fashion show, to show buyers or a photo shoot which is why the sizes available are typically very limited. But the discounts can be significant, ranging anywhere fro 20% to 80% off retail. And sometimes sales consist of leftover pieces from previous seasons which are discounted even more. One has to wonder however with the economy being as such and with all of the competition from similar sites like NET-A-PORTER (one of my faves), Outnet and more, will Swirl be able to sustain. But I guess as long as "fashionista shopaholics" like you and me exist, sites such as Swirl will always serve a purpose.

In terms of features, there aren't a lot of bells and whistles and the site design doesn't hold a lot of visual appeal. But minus the fuss means you can get down to the bizness of shopping cause there aren't alot of distractions so you likely won't be doing much stopping along the way. I just love the name Swirl and one standout was that seemingly all size zero models aren't parading all over the site which gives the impression that Swirl is making an effort to speak to all women in all sizes and I applaud them for that. When it comes to shipping and returns, policies are standard. I'll have to get back to you with my first-hand account of the overall shopping experience once having made my first purchase. Right now I'm asking "Santa Baby" to slip the $76.00 Cosabella Basic Bamboo Robe in Radish under the tree!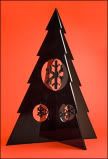 Happy Holidays

!
-- Lady Erin
Bag Ladies is Reality Radio...Real Women, Real Talk!!! Bag Ladies provides you with an intimate, entertaining, cutting edge, lifestyle program. Bag Ladies is something to look forward to that keeps you informed, in the know, and most importantly, entertained. Every Tuesday, you will feel as though you just walked into your good girlfriend's house, kicked off your shoes, grabbed a glass of wine (of a Bag Ladies suggested variety, of course), and sat down to chat it up and hear the latest about this, that, and then some.

It's Every woman's fantasy to hear someone translate their thoughts into live words. And Bag Ladies imposes no restrictions and no topic or subject is off limits. Bag Ladies discusses everything from fashion and beauty, sex and relationships to finances and parenting. OUTRAGEOUS, FABULOUS, HARD, FANTASTIC, EXHAUSTING. Speaking to your different sides and how you maintain balance. The reality of your life, how you live it and being you. Tune into Bag Ladies Radio, live, every Tuesday at 7pm EST and be sure to check us out OnDemand 24/7. Bag Ladies...It's all about you, Lady!!