Hot off the runways, Chanel's Les Trompe L'Oeil Skin Art ...Translation, temporary tattoos are here!! The much anticipated designs modeled on the runways of Chanel's Spring 2010 RTW Collection, are now available just for you!!
Created by Chanel's Global Creative Director, Peter Philips, the five design sheets feature beads, pearls, birds and of course the always recognizable Chanel logo. One immediate appeal is that the designs can be worn in a variety of ways so you are not limited in the least.
Models sported them everywhere from around their necks and on their wrists, to down their legs, around their ankles and more (Click here to view the complete runway collection and get a feel for what you would look like strutting around inked with the designs). Not only that, but you can get this limited edition tattoo collection for only 75 bucks which is extremely cost effective considering the average price of Chanel products. The temporary tattoos seemingly last for 3-5 days depending on how frequently you bathe (we hope everyday otherwise, ugh!), and can be easily removed w/ a cloth and warm water.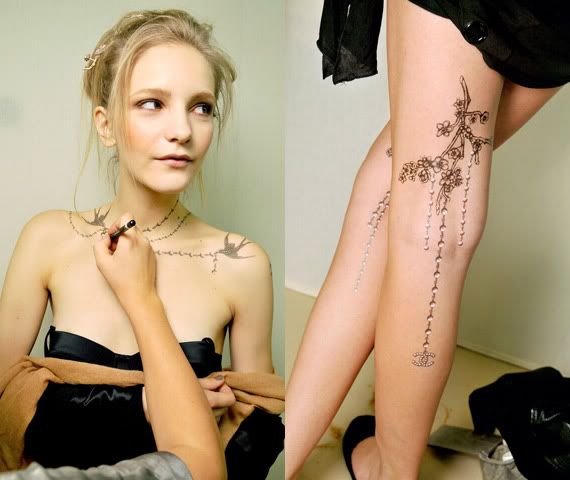 So if you ever wanted a tattoo but didn't wanna go the permanent route and if you are as much of a fashionista as you claim to be ;-), these Chanel temporary tats just might be the look for Spring. You gonna make it yours? Let us know. Click here to purchase.

-- Lady Erin

Tune into Bag Ladies Reality Radio every Tuesday at 7:30p EST only on http://www.bagladiesradio.com/